Promotional Balls
CLUB PROMOTION
Logo Printing
We can specially design a ball for your club's promotion....
Imprint your club logo on the soccer balls. The balls can be made to match your team colors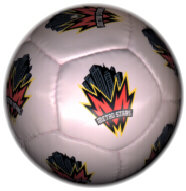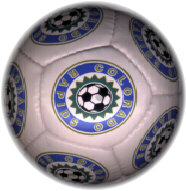 MINI BALL
Made of PVC Material with cotton Linning.
Cheapest in price and best for your promotion campaign.
SIZE: 24 to 44 Cm.
We carry soccer balls for all levels of play and can customize them them with your club or organizationís logo in many different colors
| Match balls || Training Balls || Pro Training Balls || Promotional Balls || Indoor Balls |
| Volley Balls || Rugby Balls || Hand Balls || Basket Balls || Mini Balls || American Football |
| Catalog..|| Punching balls || Soccer kit || Track Suits || Specifications |
| Flag Ball || Goal Keeper Gloves ||Soccer Accessories |
| Custom logo printing || Genuine Leather Soccer Ball |
| Home |
Leather Gloves | Soccer Balls | Leather Jackets Logo Printing
We value your comments and would appreciate your letting us know how you rate our service so we can serve you even better. Please email us at

E-mail: info@del.com.pk
copyright © 2007 Dexterous Export Line
All rights reserved. Legal Notices
All brand names, trademarks, and registered trademarks are the property of their respective holders.Use of these trademarks should not be regarded as affecting the validity of any registered trademark, trademark, or service mark.
carporate promotion,mini balls,carporate promotion,mini balls,MINI BALL,MINI BALLS,mini balls,Soccer